Dozens buried by typhoon landslide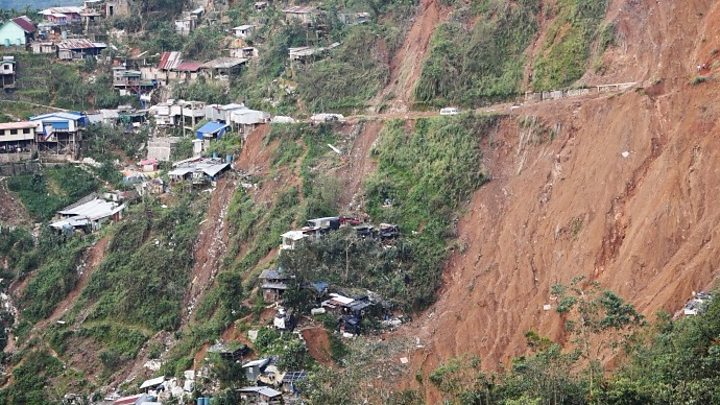 Rescuers in the Philippines are digging through mud to retrieve bodies buried by a landslide that hit as Typhoon Mangkhut battered the country.
At least 32 people in the mining town of Itogon, in Benguet province, were crushed in a single shelter.
Teams are raking through the rubble with their bare hands, passing blocks of concrete and pieces of wood down a 50ft line to clear the area.
Typhoon Mangkhut is now weakening over southern China.
Four people were killed in the province of Guangdong - three by falling trees.
What happened in the Philippines?
The storm ploughed across the main Philippine island of Luzon over the weekend. More than 60 people have been killed, mostly in landslides triggered by heavy rains, with the majority in Benguet province.
A group of artisanal goldminers in the village of Ucab, which lies in a valley in Itogon municipality, had huddled with their families in a two-storey shelter, Conrad Navidad of the International Organization for Migration told the BBC. The building was crushed, and 29 people remain missing.
"It was used as a worship area for the church group of the mine workers and their families," said Mr Navidad, who was at the scene earlier on Monday. "Before the typhoon hit, their pastor invited them to take refuge in that bunkhouse - and then the disaster happened and they were buried by the landslide.
"They are not hoping for survivors anymore - just for the retrieval of the bodies buried."
The Chamber of Mines of the Philippines said mining operators had been told to leave, but that a mine near the shelter had been operating illegally.
The Philippine government on Monday said it was deploying security forces to put a stop to illegal small-scale mining in the vast Cordillera mountain region, a practice which is credited with increasing the likelihood of landslides in communities like Itogon.
The BBC's Howard Johnson, who has been covering the storm, described a trail of destruction along the northern coast of Luzon, with forests ripped to shreds and electricity poles felled.
There is also concern over the economic cost of the typhoon, which has caused extensive damage to farmland in Cagayan, a key agricultural province.
Francis Tolentino, a political adviser to President Rodrigo Duterte, told the BBC he estimated only a fifth of produce there had been harvested in advance - threatening staples like rice and corn.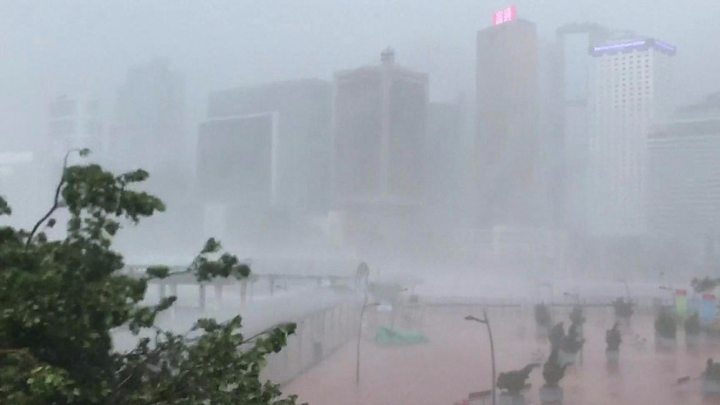 Preparation and evacuation procedures have nonetheless improved since Super Typhoon Haiyan in 2013, which killed more than 7,000 people.
Warnings were issued, travel was restricted, schools closed, and the army was put on standby in advance.
How has China been affected?
Typhoon Mangkhut is one of the most powerful storms to hit the region in decades. It made landfall on the Chinese coast near Jiangmen city on Sunday afternoon.
It is now weakening as it makes its way across southern China and has been downgraded to a tropical storm.
More than 2.5 million people have been evacuated in Guangdong and on Hainan island.
In Hong Kong, which was hit hard over the weekend, videos on social media showed apartments swaying in the wind, scaffolding crashing to the ground and commercial buildings with windows shattered.
Transport services were suspended, with flights cancelled, trains stopped, and major roads closed.
Officials put the number of injured at more than 200.
The city managed to avoid serious casualties but now faces a difficult recovery as thousands remain affected by flooding and travel disruptions.
While it avoided a direct hit, winds there reached more than 110mph and water levels surged by almost 3.5m (12ft) in places.
Authorities had issued their maximum alert, warning residents to stay indoors and away from windows to avoid flying debris.
How Typhoon Mangkhut broke records in Hong Kong
The typhoon produced a record storm surge of 3.38m (11ft) in Hong Kong, the highest since records began in 1904. The previous record of 3.23m was set by Typhoon Hope in 1979.
Typhoon Mangkhut appears to have had the strongest winds in Hong Kong since Typhoon Rose in 1971.
Hong Kong had to issue its highest warning level for typhoon conditions for 10 hours, which was almost - but not quite - a record duration.
Source :
www.bbc.co.uk