Italy's Salvini brushes off viral break-up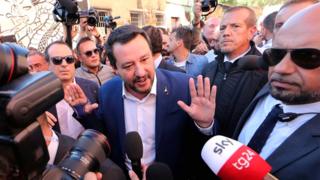 Italy's populist deputy PM Matteo Salvini has brushed off news of his break-up publicised by his former girlfriend on Instagram on Monday.
Elisa Isoardi, a TV host who had been in a relationship with Mr Salvini for three years, made the announcement as he flew to Ghana to discuss migrants.
He later dismissed it, saying Italians "did not care".
He was named interior and deputy prime minister in the new populist coalition government earlier this year.