Judge orders Brazil's Lula freed on appeal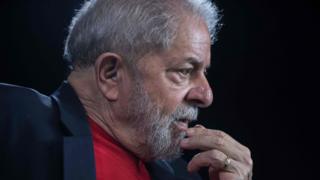 A Brazilian judge has ordered the release of ex-President Luiz Inacio Lula da Silva (known as "Lula").
Rogerio Favreto said the left-wing politician must be released from prison in Curitiba while an appeal process is carried out.
In April, Lula was sentenced to 12 years and one month in prison for corruption and money laundering.
He has always declared his innocence, saying the conviction was politically motivated.
His conviction was part of an anti-corruption investigation known as Operation Car Wash, which has implicated top politicians from several parties.
Judge Favreto's announcement comes after members of Lula's Workers Party submitted a habeas corpus application on Friday.
Polls conducted before Lula was jailed in April suggested he was the frontrunner for the presidential elections, which will be held in October.
Battle of the judges
It is not yet clear whether the ex-president will walk free soon, or whether the decision could still be blocked by Federal Judge Sergio Moro, who has been the driving force behind Operation Car Wash.
"With all due respect, [Mr Favreto] has absolutely no qualified authority to override the decision," Mr Moro said on Sunday.
He told police to wait for clarification on the legal impasse.
Meanwhile, Mr Favreto has responded by insisting he does not need Mr Moro's sign-off.
A polarising figure
Lula, who led the country from January 2003 to December 2010, is known as a divisive figure.
Thousands of people took to the streets earlier this year to call for his immediate imprisonment, while his supporters also turned out in large numbers to insist he should be freed.
His jailing was controversial as defendants in Brazil were previously allowed to remain free until their final appeal had been exhausted.
However, the Supreme Court sided with a 2016 ruling from a lower court, under which defendants could be sent to jail after a failed first appeal.
It was a close vote, with six Supreme Court justices in favour of jailing him and five against.
Could he return as president?
Many political analysts say Lula will be disqualified from standing for the presidency because of his criminal conviction.
But this has not stopped his supporters launching his pre-nomination campaign with an event in Minas Gerais state last month.
The electoral court will make an official decision in August on whether he can run.
Why was he jailed?
In 2014, after Lula left office, prosecutors started investigating allegations that executives at the state oil company Petrobras had accepted bribes in return for awarding contracts to construction firms.
He was convicted of receiving a renovated beachfront apartment worth some 3.7m reais ($1.1m; £790,000) as a bribe by engineering firm OAS.
The defence says Lula's ownership of the apartment has never been proven and that his conviction rests largely on the word of the former chairman of OAS, himself convicted of corruption.
Lula lost his first appeal in January, when the appeals court not only upheld his conviction but increased the sentence from nine-and-a-half years to 12.
Source :
www.bbc.co.uk