Officer kills man after entering wrong flat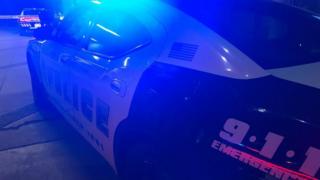 A police officer in the US state of Texas has shot and killed a man in a flat after mistakenly thinking she was in her own unit, police say.
The unnamed Dallas officer entered the apartment after her shift on Thursday night and confronted the victim, a 26-year-old male.
The victim was treated on scene and taken to hospital, where he later died.
The officer has been placed on leave while the police and District Attorney's Office investigate.
The victim was identified as Botham Shem Jean by the Dallas County Medical Examiner, local media reported on Friday morning.
The shooting occurred at an upscale apartment complex just one block from the police department, south of downtown Dallas.
According to a police statement, the officer walked into the unit she believed belonged to her and saw Jean inside.
Authorities did not provide further details about how the altercation unfolded, but the officer eventually fired her gun and hit Jean.
The off-duty officer, who was still in uniform and not injured, called police to report the shooting.
The officers who responded provided first aid at the scene before Jean was taken to Baylor University Medical Center and pronounced dead.
In a news conference on Friday morning, Dallas Police Sgt Warren Mitchell said they had not yet interviewed the officer involved.
Sgt Mitchell did not comment on whether the officer had mistaken Jean as an intruder when she shot him.
Police have not spoken to any other individuals at this time and did not say that there were any witnesses.
"We still have a lot to do in this investigation," he told reporters, the Dallas Morning News reported.
The Dallas Police Department and the District Attorney's Office are conducting a joint investigation.
Source :
www.bbc.co.uk