Russia and Turkey to create Syria buffer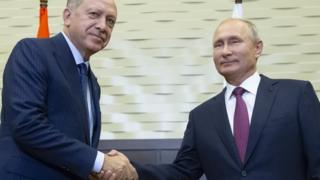 Russia and Turkey have agreed to create a demilitarised buffer zone in Syria's Idlib province to separate government forces from rebel fighters based there.
Russian President Vladimir Putin said it would be 15km to 25km (9-15 miles) wide and come into force by 15 October.
Troops from Russia, an ally of Syria's government, and Turkey, which backs the rebels, will patrol the zone.
The UN had warned of a humanitarian catastrophe if the Syrian army launched an all-out assault to retake Idlib.
But after Monday's meeting between Mr Putin and Turkish President Recep Tayyip Erdogan in Sochi, Russian Defence Minister Sergei Shoigu said the deal meant there would be no such operation in the region.
Idlib province is the Syrian opposition's last major stronghold.
Mr Putin said that under the deal, all heavy weaponry, including tanks, rocket launch systems and mortar launchers operated by rebel groups would need to be pulled out of the buffer zone by 10 October.
Islamist militant rebel groups, including those of al-Nusra Front, Mr Putin said, would have to leave the zone.
It was not immediately clear if the zone included Idlib city, which would leave some rebels needing to withdraw from it.
Mr Erdogan said the agreement would "prevent a humanitarian crisis".
He had earlier called for a ceasefire in northern Syria to prevent what he said would be a "bloodbath" and another major refugee crisis on Turkey's southern border.
Breathing space
Analysis by the BBC's Jonathan Marcus
Any diplomatic arrangement that postpones a full-scale onslaught against Idlib will be welcomed by the international community.
Such an attack by the Assad government - backed by its Russian and Iranian allies - risked not just a humanitarian catastrophe, but also a direct military confrontation with Turkey.
Turkey has deployed troops at a number of locations in Idlib and has been reinforcing these over recent days. President Assad wants to reassert control over Idlib - the last province in rebel hands.
Both he and the Russians want to destroy rebel groups they call "terrorists". It is hard to see exactly how a buffer zone arrangement involving Russia and Turkey can address these long-term problems. But averting an offensive for now may give breathing space for additional diplomatic moves.
Idlib province, and adjoining areas of Hama and Aleppo, are home to an estimated 2.9 million people, including one million children.
A sharp increase in hostilities since the start of September and fears of further escalation have led to the displacement of more than 38,500 people.
Syria has been in a civil war since 2011, after a peaceful uprising against President Bashar al-Assad turned into a conflict that has killed more than 350,000 people.
Source :
www.bbc.co.uk